Tell the Truth and Run: Campaign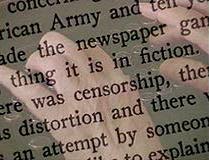 A Film by Rick Goldsmith
Seldes on Public Television:
And What You Can Do to Help!
Tell the Truth and Run: George Seldes and the American Press, Rick Goldsmith's piercing look at censorship and suppression in America's news media, is now available to public television stations across America. But so far, only 21 public TV stations have signed on to air the Academy-Award-nominated documentary.
The "Seldes 21":
KRCB - Rohnert Park, CA
WCFE - Plattsburgh, NY
KRMA - Denver
WNET- New York
WGBH - Boston
KCET - Los Angeles
KQED - San Francisco
KCTS - Seattle
KOCE - Huntington Beach, CA
KERA - Dallas
KPBS - San Diego
KTWU - Topeka
Maryland Public TV
WCEU, Daytona Beach
WGBY - Springfield, MA
WGVU - Grand Rapids, MI
Wisconsin Public TV
WMVS - Milwaukee
WNEO - Alliance, OH
WTBU - Indianapolis
WYBE - Philadelphia

If your local public TV station is NOT on the above list, you might contact the station's program director by phone, fax, letter or e-mail:
you can let him/her know you understand that American Program Service (APS) has offered the station the opportunity to broadcast the Academy Award-nominated documentary feature Tell the Truth and Run: George Seldes and the American Press; and

ask if they have plans to broadcast it; if not, urge them to take another look; APS can send screening cassettes to stations upon request. (All public television stations know how to contact APS.)

You can find the name, address, phone, fax and e-mail of your local public television station at the PBS web site.www.pbs.org
---
For more information:
About Tell the Truth and Run
Links to related sites
---
Back to the home page