Tell the Truth and Run: George Seldes and the American Press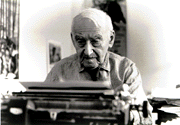 Academy-Award nominated film by Rick Goldsmith
"George Seldes - Now more than ever"
Tell the Truth and Run is now on DVD!
Nominated for an Academy Award for Best Documentary, Tell the Truth and Run, the dramatic story of muckraking journalist George Seldes (1890-1995), is a piercing examination of American journalism.
Eighty years a newspaperman, Seldes was a noted foreign correspondent who became America's most important press critic. Through Seldes's encounters with Pershing, Lenin and Mussolini; the tobacco industry, J. Edgar Hoover and the "lords of the press," Tell the Truth and Run provides a fresh perspective on Twentieth-Century history while raising profound ethical, professional and political questions about journalism in America.
Seldes at age 98 is the centerpiece of the film: remarkably engaging,witty and still impassioned about his ideas and ideals. Ralph Nader,Victor Navasky, Ben Bagdikian, Daniel Ellsberg, Nat Hentoff and Jeff Cohen, among others, provide incisive commentary. Stunning archival footage and over 500 headlines, photographs and articles provide a rich historical backdrop.
Tell the Truth and Run raises fundamental questions about the recorded history of the Twentieth Century; about freedom, fairness and diversity in the media; about power and abuse of power; and about public citizenship and the democratic process.
---
Featured link
"You Can't Print That: Conversations with George Seldes"
If you have a high speed connection, you can watch this remarkable film online. Still images from the film also available.
More on George Seldes

George Seldes's writings:

These chapters appear thanks to volunteer transcribers.
---
Recommended by Brasscheck's Counterintelligence Project

About Brasscheck, the producers of this site.