How to Order
"Tell the Truth and Run"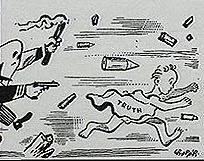 Tell the Truth and Run: George Seldes and the American Press is now available on DVD, with a special feature "Director's Commentary" recorded by Director Rick Goldsmith, that gives background on the making of Tell the Truth and Run, as well as insight into the filmmaking team, the on-camera subjects (Bagdikian, Navasky, Nader, Hentoff, Ellsberg et al) and narrators Susan Sarandon and Ed Asner. Both the DVD and the original VHS videotape are available for home viewing, and both have closed captioning. Cost is $34.95 + $5 shipping and handling.
Three easy ways to order (be sure to specify DVD or VHS):
Call 800-343-5540 to place your order

or
Send your 1) shipping address with 2) credit card number and expiration date along with 3) the name of the film to: karen@transitmedia.net

or
Send your shipping address with a check or money order for $39.95 with the notation "Seldes on the web" to:

Kovno Communications
2600 Tenth St. #628
Berkeley, CA 94710

Please note: The above price does not include public performance rights. For educational or other institutional use, please contact New Day Films or call them toll-free at 888-367-9154.
---
For more information about George Seldes:
Links to related sites
---
Back to the home page